SEAANZ Conference - Start Small Think Big
Come and join researchers, educators, policy makers and business practitioners from Australia and New Zealand at the 22nd annual conference of the Small Enterprise Association of Australia and New Zealand.
WHERE: Massey University - WELLINGTON, NEW ZEALAND
WHEN: 01 September 2009 - 03 September 2009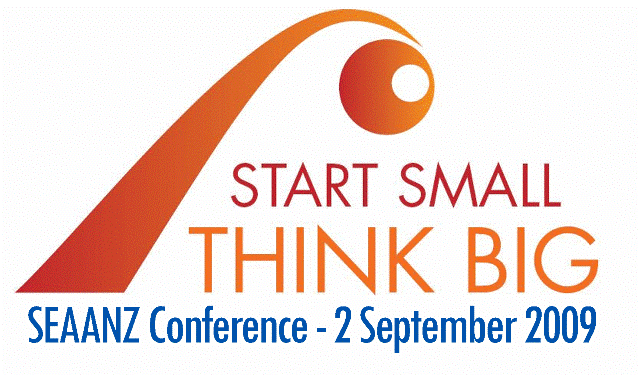 The theme of the 22nd SEAANZ Conference, Start small - Think big is one of many phrases used by researchers, policy-makers, educators and practitioners. It may imply that growth is possible from the smallest of beginnings; that growth is the ultimate goal for owner-managers; and, that growth (and its associated outcomes of increasing profit, outputs and staff) is the greatest contribution a small firm can make. The theme also pays homage to the innovations that can emerge from the smallest of firms.

There is also room for the theme to be examined critically by researchers, policy-makers, educators and practitioners, asking: Should a 'big firm' be the goal? Does targeted business assistance legitimise high growth as the only 'suitable' business goal? Are micro-firms written off and pejoratively labelled as 'lifestyle businesses'? Is SME growth seen as the panacea for all economic ills? What are the implications of SME growth in terms of sustainability?

The conference program will feature sessions covering the theme Start small - Think big, as well as a wide range of other small business related topics.

The 2009 SEAANZ Conference in Wellington, New Zealand will enable you to:
Meet with leading researchers in the field.
Engage in dialogue on the latest issues concerning the SME sector with policymakers, educators and practitioners.
Network with key figures from organisations linked to the SME sector from Australasia.
Socialise and enjoy Massey Wellington's hospitality and friendly atmosphere

Attendance Packages
All fess are in New Zealand dollars and are inclusive of Goods and Services Tax

Registration Type

'Early Bird' until 
10 July 2009

'Standard' from
11 July 2009

 SEAANZ Conference
 Wed 2 Sept 2009 only

$300.00

$350.00 

Other
 
 
 Post-conference policy day
 

$200.00

 Post-conference policy day
 (purchased with full conference attendance)
 

$180.00
Click here to view registration package inclusions.

.
This event has finished.